Have you ever walked into a beautifully decorated house and thought to yourself, "This is simple, yet so well designed."?
There is something alluring about simplicity in a home. It's captivating, as if drawing you in to ponder the meaning behind the 3 white books placed just so on the mantle, which then compels you to think about your own daughter who loves getting lost in a good novel.
Simplicity in a home presents thoughtfulness and intentionality, giving a specific purpose to each piece that was chosen to be put on display.
Simplicity often exists with its meaningful companion, white space. It's human nature to see an open space and instantly feel the desire to want to fill it with things. The hall closet off the foyer that isn't being used feels wasteful, that bare shelf looks empty, but I want to challenge you to shift your view of "wasted space" to "white space".

White space isn't wasted. It's intentional, because you've chosen not to fill it, which allows for more breathing room in your home.
The first step to creating a simply styled space is envisioning what you want it to look like. In my opinion, it's impossible to start a project without vision. Let's use your living room as an example. What does it look like right now and how does it make you feel? Does it feel cluttered and crowded? Is it a source of tension between you and your spouse?
 Once you've set your vision, start thinking about what decor styles you like best. If you aren't sure of your exact style, you can gather some inspiration on Pinterest by creating a mood board.
Most people will have a combination of 2-3 decor styles. It's okay if you can't settle on just one! Ultimately, you want to love what this space looks like. The goal is to make sure all of your decor has a cohesive look so that it flows well in your home.
After deciding on your unique home decor style, it's decluttering time! As I mentioned earlier, the goal is simplicity because when you have fewer things, there is less to clean up, organize, store, and move around.
If you're decluttering the living room, give yourself the permission to take it day by day. This entire project doesn't have to be completed within 24 hours. You get to work at the timeline that you've created for yourself.
I'd recommend starting with one section of the room, for example, the coffee table or the media console. Begin to pull things out piece by piece. Hold them in your hand and ask yourself these questions.
Does this item serve a purpose in my life right now?

Is keeping this item making my life better or easier, or is it creating more work for me?

Do I want more space or more

stuff

in my home?
Your answers will help you determine the item's current value in your home. It's healthy to remember that items can serve you in seasons, but they aren't always meant to be kept in your home forever. In fact, you may have a neighbor, friend, or someone in your community who is in need of something that you no longer have a need for. This would be a great opportunity to bless somebody else, and in turn, simplify your home.
Once you've finished removing the excess from your space, it's time for the fun part of styling it! The goal is to create a simple, personalized room that looks beautiful and reflects you, without making it look cluttered.
Remember, your home doesn't have to be perfect or be all one style, but you do want the room to feel cohesive and have a natural flow.
The first step is to create white space. This is the empty space that you intentionally leave between each item you have on display. Creating white space in a room gives each piece of decor the opportunity to be enjoyed, because ultimately, too much stuff looks like too much stuff.
When decorating your home, it's important that you like the space that you're creating. It's easy to get caught up in what's trending or popular, but at the end of the day, you are the one who spends the most time in your home. You want it to be a place that you truly enjoy living in.
I believe that we all want a home that reflects us in some way. You can do this by adding personal touches like framing family photos or aligning the decorations in your home with your family's personal interests.
For example, if you love the feel of a crisp, clean space, you may paint the walls of your bedroom white and add in a pop of color with a sandy pink bedspread. On the other hand, your toddler's room may consist of sage green walls with his truck collection lined up by the door, reflecting his current passion for bulldozers and excavators.
There are simple shifts you can make that will brighten up a room and make it say, "This is my room. This space reflects me."
Personally, my office is the one space in my home that I have total control over, so I've spent a lot of time rearranging and styling it to fit my tastes. I'm currently working on designing a wicker basket wall. I find a lot of joy in thrift shopping, and I've enjoyed curating a collection of unique, woven baskets over the past few months. This is something that both reflects my boho style and my love for thrifting.
Besides the basket wall, I only have two other pieces of decor on my walls: a macrame wall hanging and a small cork board with reminders and ideas. Keeping my office decor minimal is important to me because with fewer visual distractions comes more creativity and productivity boosts - and who doesn't want more of that?! 
There is so much beauty in simplicity, and I hope that reading this inspired you to take the first step toward a simpler home. Begin by envisioning your space. Which room will you start with? Start to dream about how you want to transform it. What will it look like? How will it feel? Then, set a timer and declutter for just 15 minutes.
I want you to remember that decluttering is a journey to be embarked on. It's never hurried, never rushed, but rather taken at your own pace. You will walk away feeling lighter, calmer, and so much happier in your home. I believe in you! Now, go take that first step. I'll be here cheering you on.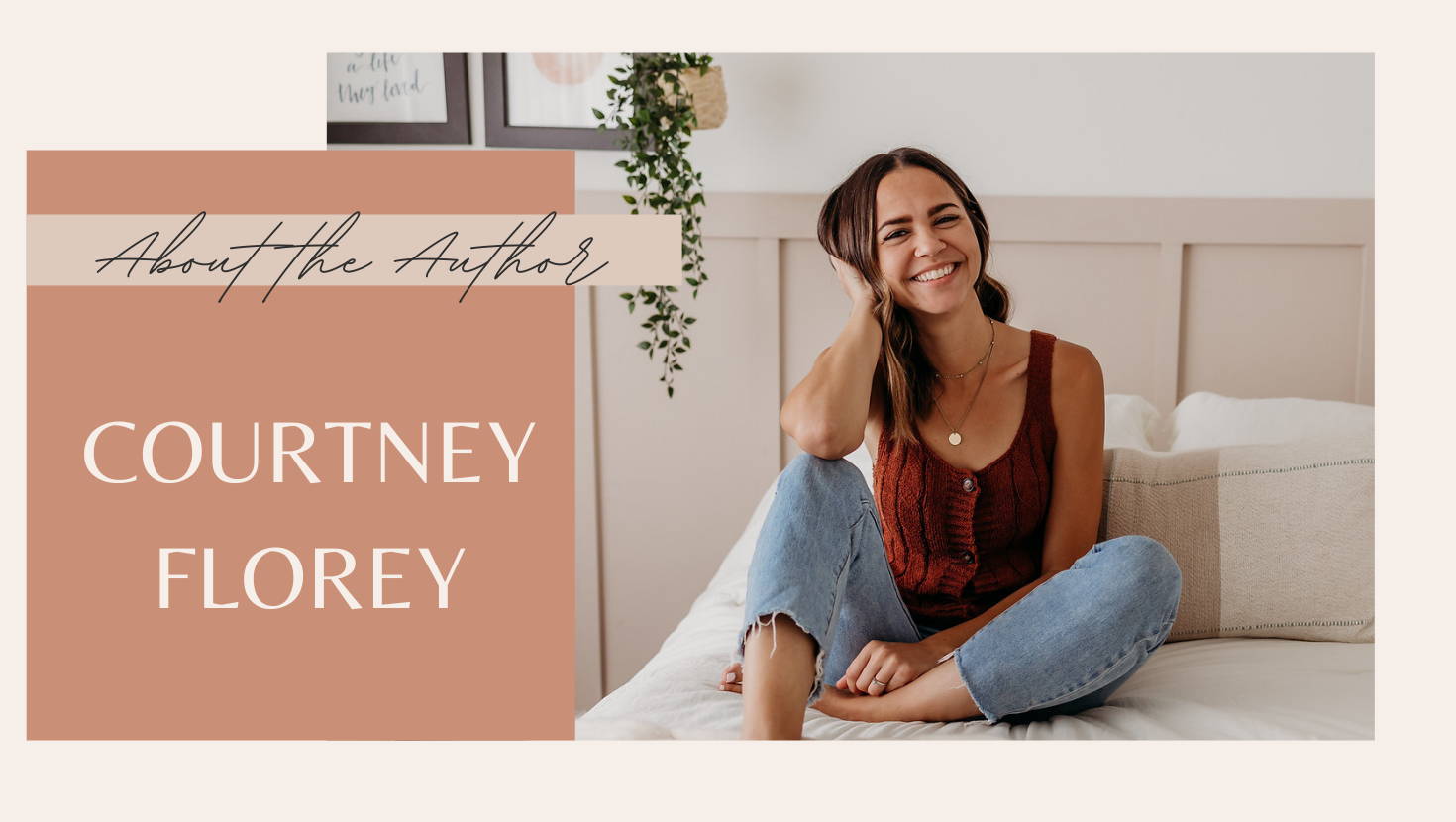 Courtney Florey is an Army wife, Decluttering Coach, and the Founder of The Simplicity Society. She's passionate about helping overwhelmed women declutter everything, so they can live with more joy and ease in their days. Her mission is to equip women with the practical tools + support they need to create simpler and more purposeful lives.
You can connect with her on Instagram @declutteranddwell.
Courtney is a huge proponent of realistic decluttering. She believes that decluttering isn't a one-time event, but a process and a lifestyle. On her Instagram page, she shares tips on mindset, decluttering your home, systems, purposeful spending, simple living, and more.
The Simplicity Society is a membership designed for the busy woman who wants to declutter her whole life with a community of like-minded women cheering her on. Each month, there's a new monthly decluttering topic to help prevent overwhelm and provide clarity for members on their journey. Within each month, Courtney hosts weekly zoom calls for a time of equipping, accountability, and community building. The Simplicity Society was created to support women in all seasons of life, whether you're a working professional, a new mom, an empty nester, or somewhere in between. If you're feeling overwhelmed by the clutter and craving a simpler life, this is the community that you want to be apart of!
---