Be the Boss dives into the journey of empowered female entrepreneurs. We believe in women coming together to inspire one another creatively and professionally! For our first feature, we chatted with Laura from Home Decor brand Turquoise and Tobacco and Mariah from Apparel Brand MPRINT. These women have sparked inspiration in us and hope they do with you too.
---
---

---
Meet Laura, the owner and designer of Turquoise and Tobacco. She is a mother and hustler at heart who has had a passion for interiors and design since a child. Find her on instagram restoring and renovating her Spanish bungalow! She found her passion for a business she truly loves and shows us how to draw inspiration even through new transitions.


Q: Tell us about yourself and how you found your passion for interiors and jewelry design.
A: Hmmmm, how to put this briefly. I've loved fashion, art and design since I was a kid. I started out in my early 20's working in retail, and then as a buyer for a boutique. After 7 years, realized I didn't want to work on that side of the fashion industry anymore. I wanted to be a sales rep, so I transitioned over to wholesale. I loved that and did it for four years, but then started feeling very stagnant, plus my boss didn't really value my creative opinion and I felt like all I was doing was selling. I needed to use my hands and create something myself, something that was mine. I started making jewelry on the side and teaching myself by watching Youtube videos. Somehow it took off and I quit my job and started my own Jewelry Line, Turquoise and Tobacco. I've always loved Interiors but rented apartments, so I never felt like I couldn't fully take ownership and do what I wanted to do until I owned my own home. So a year ago, we bought our first home, and the rest is history.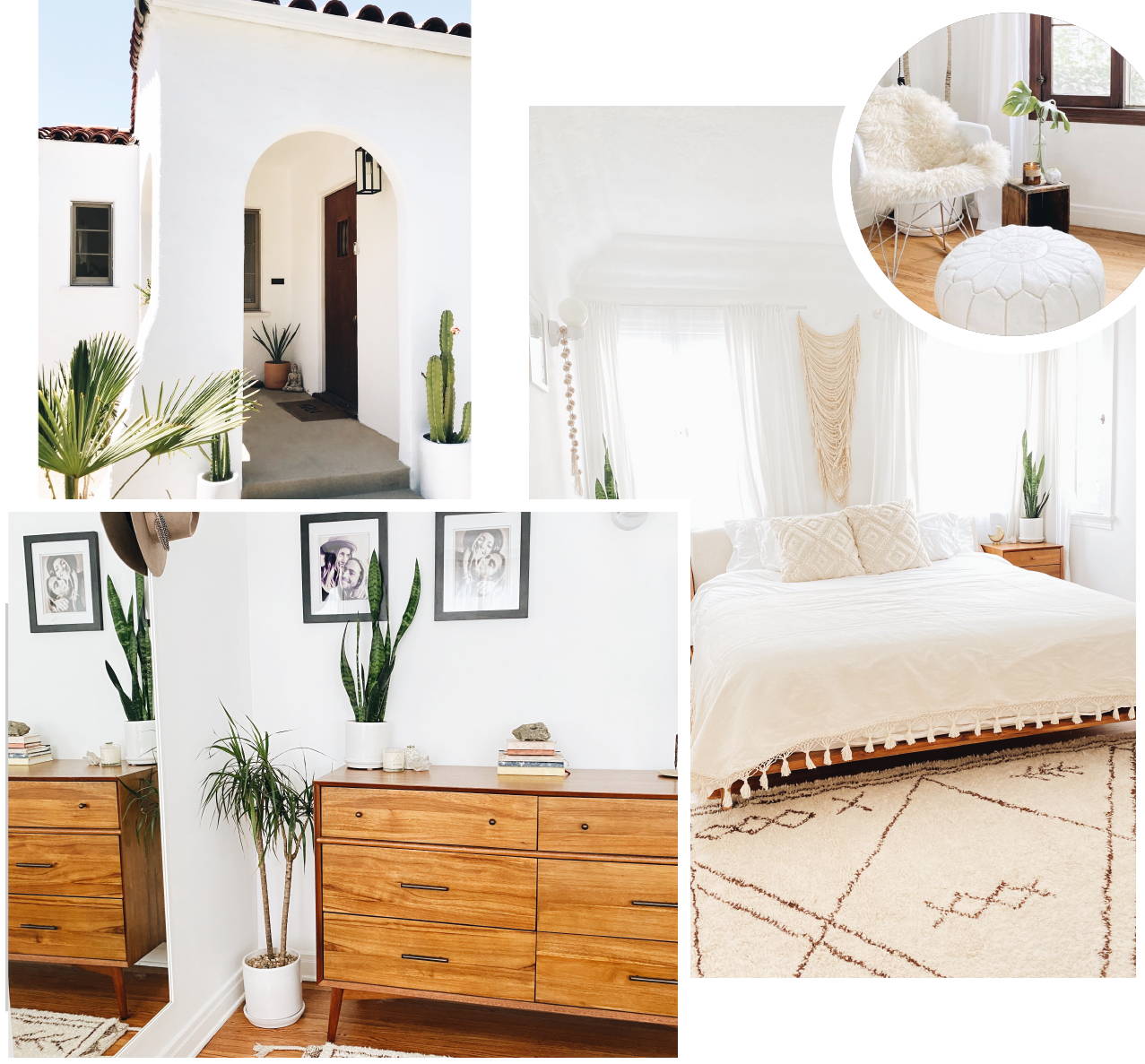 Q: At what point did you decide to turn that passion into a business?
A: When I felt like I had accomplished all I could at my previous jobs and felt like I was ready to go out on my own, I took the plunge. I have always though been a hustler and had a second job, so even though I took the leap to start my own company, I took an independent sales job for another clothing line. But I could do it from home, so it was the perfect safety net to give me the courage to go on my own.
Q: Tell us more about Turquoise + Tobacco
A: This is always my hardest question:)
No, I don't sell Tobacco as many often think. Turquoise and Tobacco was named after my two favorites, Turquoise Stones and Tobacco Leather. It's also an homage to my deep appreciation of Native American artistry and craftsmanship, which I've been heavily inspired by since as long as I can remember. My pieces are inspired by nature, elements of the sun and moon and the spirits of the earth.

Q: How do you draw inspiration when coming up with your next jewelry piece?
A: That's a tough one. Creativity has been really hard for me since I've had my son. I used to just go to the beach and sit on the sand for hours and sketch, and I would have a whole line designed in a day. I can't exactly do that anymore:) However, I did just finish a new collection and it just took me committing to only that for a few months. Just sitting in the backyard every afternoon and sketching while watching my son play. So it looks a little different these days, but I'm learning how to navigate it in a new way:)
Q: What is your secret to staying inspired/creative in your home renovation endeavors and social media postings?
A: Honestly my space has to be beautiful. I work from home so if one thing is bugging me, or I get an idea to do something around the house, I can't do anything until that's finished. And for social media, that's a tough one too, it all goes in phases for me, I'm not super consistent. Once I get in a flow, I can't stop, but sometimes I get in that rut and the only thing that gets me out of it is redecorating something in my house, or just getting out. Sometimes all it takes is getting out of the house (my home office) and going somewhere, then everything gets shaken up for me and I feel creative and inspired again.

Q: What is your favorite decor piece in your home you're loving at this moment?
A: Plants! We've been super house poor since buying our house, so all of our decor is from our last place, which I still love. But I've had so much fun propagating plants and using them to liven up my rooms and freshen up my space. They totally give energy to any room that's feeling dull or uninspired.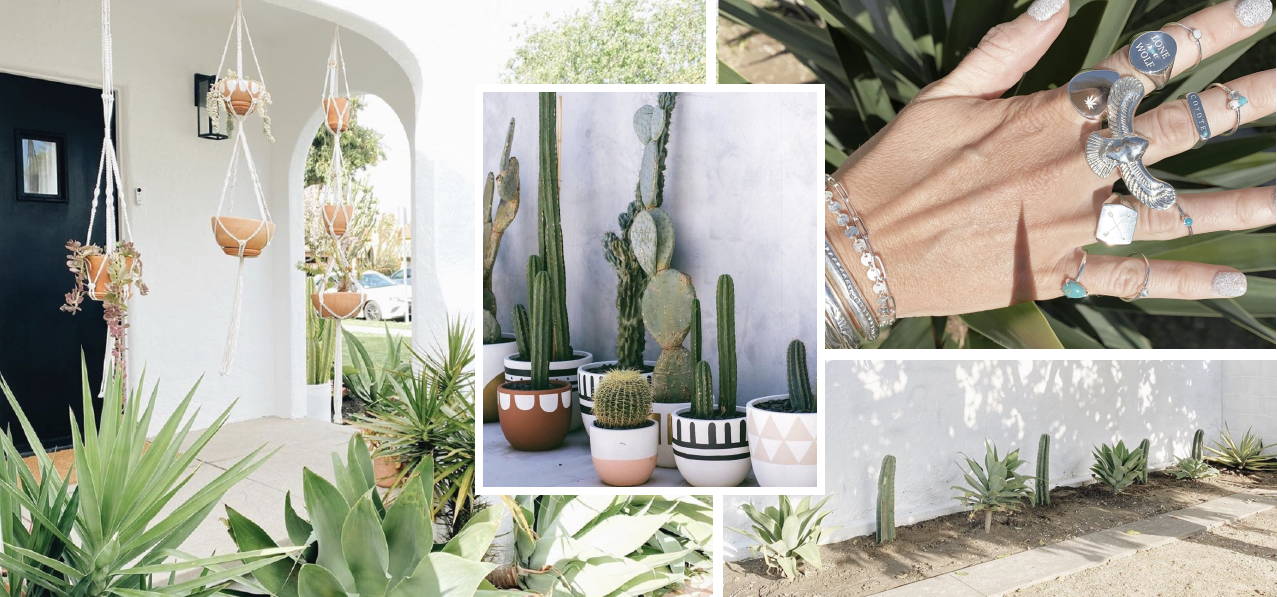 Q: There are lots of women who have dreams of their own line, or a company like yourself. What is some advice you wish you knew when first building your brand?
A: I don't think there's anything I wish I knew, as the learning process of it all I think is part of what has kept it all so exciting. I jumped in headfirst without thinking about it and I think that's why I was so successful starting out. I didn't have any fear. But I do wish I was able to take more ala carte classes, like to this day I still haven't taken a photoshop class, everything I know is all self-taught from watching youtube videos. I also wish I would have taken some business classes before starting and maybe taken a quickbooks class.
---

---
Say hi to lovely, Mariah Lynn. She started MPrint to inspire others to tell their story through her designs. She is a #GirlBoss with her own company + blog and is killing it! Check out her instagram for some inspiring DIY's you'll love.
Q: Tell us about yourself and how you found your passion for interiors and design. 
A: Everything I do, I do because I truly love it. I believe everything you do in life you are intentionally or unintentionally designing- designing the life you want to live. When I work I am designing apparel, when I do interior design work, I am designing my home, when I eat healthy or work out, I am designing a healthy lifestyle, intentionally. Everything I do is design, because that is my passion.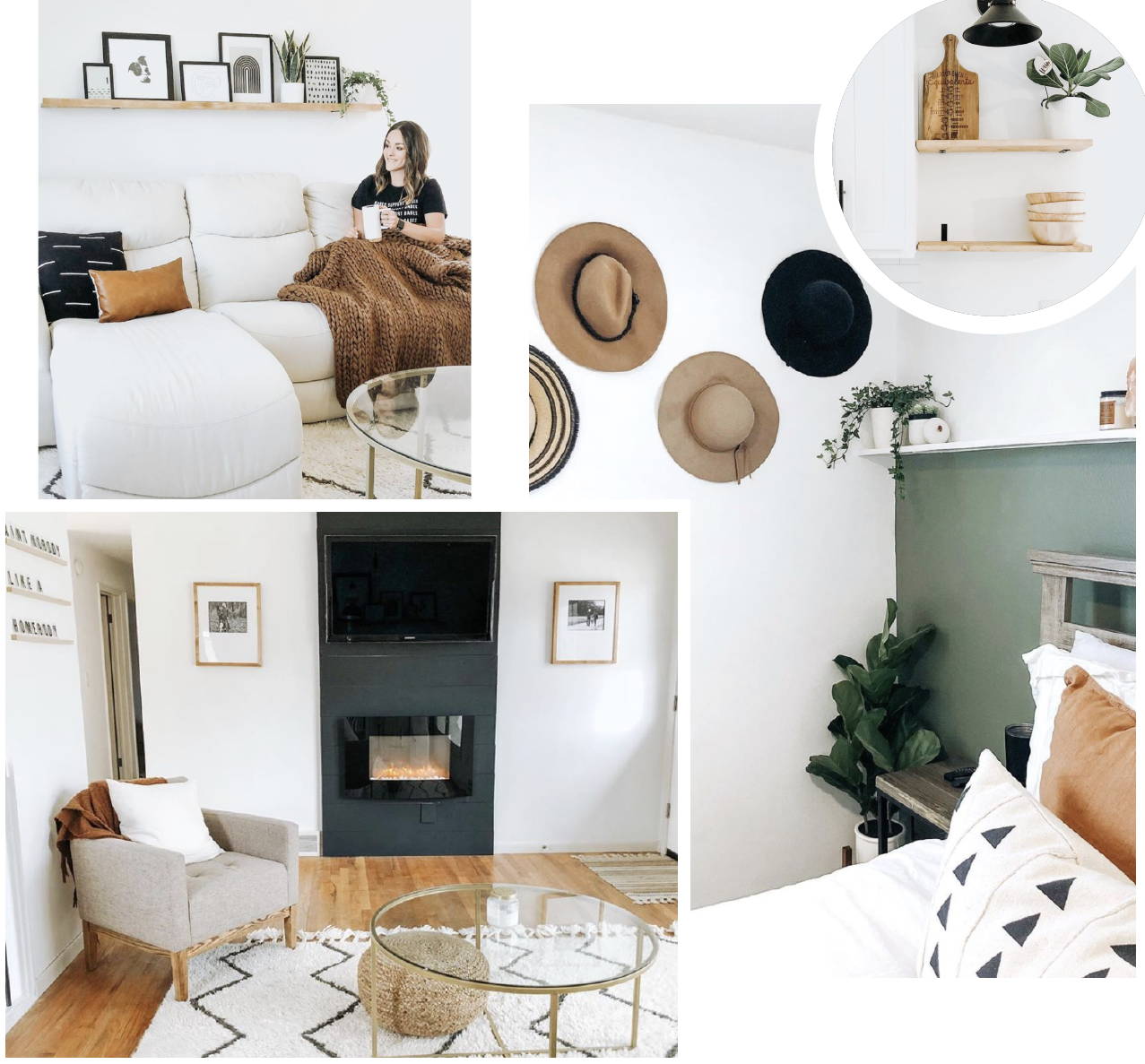 Q: Tell us more about MPrint Make your Mark. 
A: MPrint is a custom apparel business. Everyone has a story to tell and now they can tell their story by wearing our products. We provide our customers apparel that not only look good but feel good with our boutique styled Bella + Canvas brand. Who wouldn't want to feel positive vibes through comfy apparel? Or strut through a farmer's market with a reusable tote that radiates your personality.

Q: What made you decide, "Hey, I'm ready to make my own printed apparel brand"?  
A: I was never one who wanted to fit in, I wanted to do my own thing and rock at it. I always had the drive to be an entrepreneur within design. I first went to college for graphic design because that was the only career option I knew of within my interest. As I went through my first semester, I decided I could not just sit at a computer and design all day, that is when I found out about Graphic Technology where you can design and actually produce the product. In school we printed on various mediums which opened my eyes to a new opportunity to create unique products to sell to others.
After each semester I had an increased drive to have my own company. Although this was a dream of mine, I thought it would be smart to start this dream later down the road when I had the money to put into a store front. I would toss my idea around to my family members and one day my uncle who is an entrepreneur himself said, "Why would you wait? You are used to being a poor college student, so you have nothing to lose by trying it out." When he told me that everything clicked, I decided right then that I would spend my last semester planning my business, so when I graduate I would be ready to launch. I promoted my business via social media and word of mouth, there is nothing better than free marketing!
Q: With social media always changing, what have you found to be your most effective way to reach your customers? 
A: MPrint has always used both Instagram and Facebook to market and sell our products because our demographic ranges from age 14-70 and both of those platforms ensure we reach that wide range of customers. Although MPrint has been consistent with the use of social media, we began to notice the trend of other boutiques branding within their photos, so as we grew we ensured our photos were consistent with our branding so that when people saw our photos they knew it was MPrint's.
Q: What is your secret to staying inspired/creative in your blogging/social media and DIY projects?
A: I am constantly on Etsy, Pinterest and Instagram scrolling through the feed and saving things that truly inspire me (probably way too much if you ask my boyfriend!) I have also been super into business books lately, and I am not an avid reader but I AM into learning about successful business practices developed and applied by strong women. I recently read #Girlboss by Sophia Amoruso who built a multi-million-dollar fashion empire, Nasty Gal with absolutely no debt. She talks about how she grew up never really fitting in, couldn't hold a job because she just got bored of it, so decided to start selling vintage clothing online. Essentially, she became the boss of her own life, and killed it. Those are the types of books that keep me inspired and wanting to constantly grow and build my own company.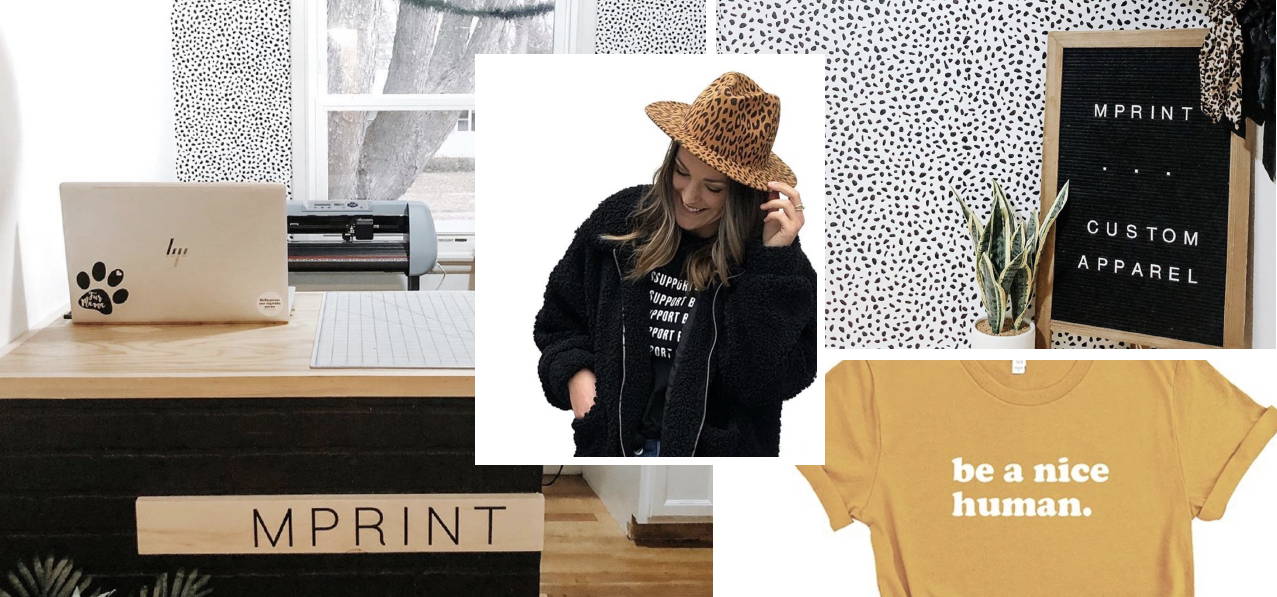 Q: Many women dream of running their own business, especially doing something they love like yourself! What piece of advice would you give these aspiring women? 
A: My advice would be to go for it! If not now, when? If you truly believe you have something to offer the world, why the heck not give it a try? Right now, is a great time to be a woman, women support women. Before I even opened MPrint I met an amazing local businesswoman and we began chatting and before I could even finish, she said she wanted to help me sell my products. She believed in me and supported me from day one. It was because of her I was able to reach an even bigger market from the beginning. So, my biggest advice would be to get out there and meet people, talk about your product and believe in it and they will too.
Q: I'm sure along your way, you've faced many roadblocks in starting your business. What is something you wish you knew before starting MPrint? 
A: In the beginning I always dreamt of having a storefront, but because I started my business right out of college with very little savings, I was forced to start and grow it slowly. I always believe things happen for a reason and because I started my business slow and continue to work out of my home, I can keep my cost low and consistently grow my business without any financial worries. I feel for the small businesses in the age of COVID-19 who have rent and employees to pay during this difficult time. The supporters of small businesses are truly the best. We could not do this without our amazing customers.
---
These women have been such an amazing start to our Be the Boss series! They have shown us to not be afraid to turn your dreams into a reality today. We have our next Be the Boss post in the works, and am excited to bring to you all more amazing boss women in the home and interiors space.  


Want to be featured on our Be the Boss Series? Connect with us!
Thanks!
This field is required
This field is required
This field is required
This field is required
This field is required
---